January 21, 2017
9:30 am
to
4:00 pm
May 20, 2017
9:30 am
to
4:00 pm
September 2, 2017
9:30 am
to
4:00 pm
All retreats are held at Park Road Baptist Church, Milford Chapel, 3900 Park Road, Charlotte, NC, 28209.
Retreat details and registration links are below.
January 21: Social Harmony – In a world of political strife, racial divisiveness, and growing ill-will, many of us are asking: How do I sit with the fires of inner distress while also being an advocate for peace and justice? Nelson Mandela shares: When we can sit in the face of insanity or dislike and be free from the need to make it different, then we are free. In this daylong retreat – the day following the 2017 Inauguration – we will explore belonging through the Buddha's teachings on social harmony as we deepen our mindfulness practice and recommit to safety and happiness for all beings, without exception. This daylong, mostly in silence, includes sitting meditation, walking meditation, a talk on social harmony, and Q&A. Register here
May 20: Cultivating The Radiant Heart Retreat – In this daylong retreat, we cultivate our capacity to abide in loving kindness — Metta. Through noble silence, guided and walking meditation, and reflections on wisdom teachings, we soften the mind, rest in the body, and open the heart to its full radiance, then shine our light in all directions for all beings, without exception. Register here – Download a Radiant Heart Flyer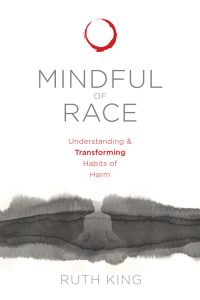 September 2: Mindful of Race Daylong – Racism remains one of the most rooted and painful impasses of our time. It is fed through unawareness and the misuse of power. To understand the dynamics of race and racism and the flesh we put on its bones is to also understand other forms of oppression and our relationship to differences, divisions, and diversity. Through the lens of the Vipallasa Sutta and periods of walking and guided meditation, we will understand the dynamics of racial suffering and cultivate compassion that liberate heart, mind, and community. This daylong retreat will debut the Spring 2018 release of my new book: Mindful Of Race: Understanding & Transforming Habits of Harm.  Register here – Download a Mindful of Race Flyer
$45 online registration in advance; $55 onsite registration plus dana.
Open to All