Black Wellness in the Era of Covid 19: A Retreat for and with Black People, Sponsored by C-Mind
June 7 @ 3:00 pm

-

5:00 pm
Dr. Majied and I are excited to return to CMind and offer BLACK WELLNESS IN THE ERA OF CVOVID-19 — A RETREAT FOR AND WITH BLACK PEOPLE. Registration is now open. Plan to join us!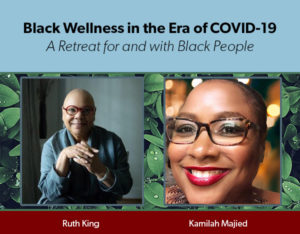 We are painfully living through what the emerging data confirm—that Black people are dying at disproportionate rates and experiencing more negative economic, legal, health and safety consequences due to COVID 19 and the ensuing Shelter in Place mandates. This is having a profound impact on our communities and on each of us personally and professionally. We also know that the causes and effects of these difficult times are deeply rooted in generations of injustice and neglect. Yet our wellbeing depends on our response as leaders. It is time that we gather as Black practitioners, educators, artists, activists, and leaders and share the wisdom of our beautiful collective community.
We invite you, our beloved Black community, who do so much holding, caring, and leading, into a space of learning about how meditative practices can help us awaken to and sustain our physical, emotional, social, and communal wellness. 
All the practices offered in this 2-hour session will seed your capacity to further nurture wellness in the Black communities you practice and lead in, thus enabling you to feel more fortified in guiding your respective communities towards surviving and thriving through the pandemic and beyond.
Join us for this pre-Juneteenth celebration of Our Black Lives as we learn together how to liberate and nourish our well-being and that of one another. 
Offered freely – Donations welcomed!
Facilitators: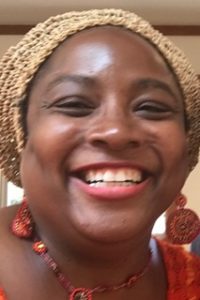 Dr. Kamilah Majied is a mental health therapist, clinical academician, and internationally engaged consultant on inclusivity and contemplative pedagogy and practice. She teaches clinical practice and research, employing psychodynamic, cognitive-behavioral, mindfulness-based, and artistic approaches to well-being. Kamilah has also practiced and taught Buddhism and mindfulness practice from several perspectives including mindfulness-based cognitive therapy, mindfulness and racial justice, Buddhism and mental health, and mindfulness practices to preserve the environment. She gave opening remarks at the first White House Conference of Buddhist Leaders on Climate Change and Racial Justice, where she also facilitated a dialogue on ending racism amongst the internationally represented Buddhist leadership. Read Kamilah's full bio here.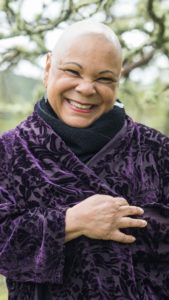 Ruth King is an international teacher in the Insight Meditation tradition, serving on the Teacher's Council at Spirit Rock Meditation Center, CA. King formally managed training and organizational development at Levi Strauss and Intel corporations consulting to leaders on cultural change initiatives. Currently, King teaches the Mindful of Race Training Program nationwide to teams and organizations combining mindfulness principles with an exploration of our racial conditioning, its impact, and our potential. King has a master's degree in Clinical Psychology and is the author of several publications including her most recent Mindful of Race: Transforming Racism from the Inside Out. www.RuthKing.net
Our Sponsor: