Black Wisdom Circle, A Six-Week Online Offering for Self-Identified Black Folks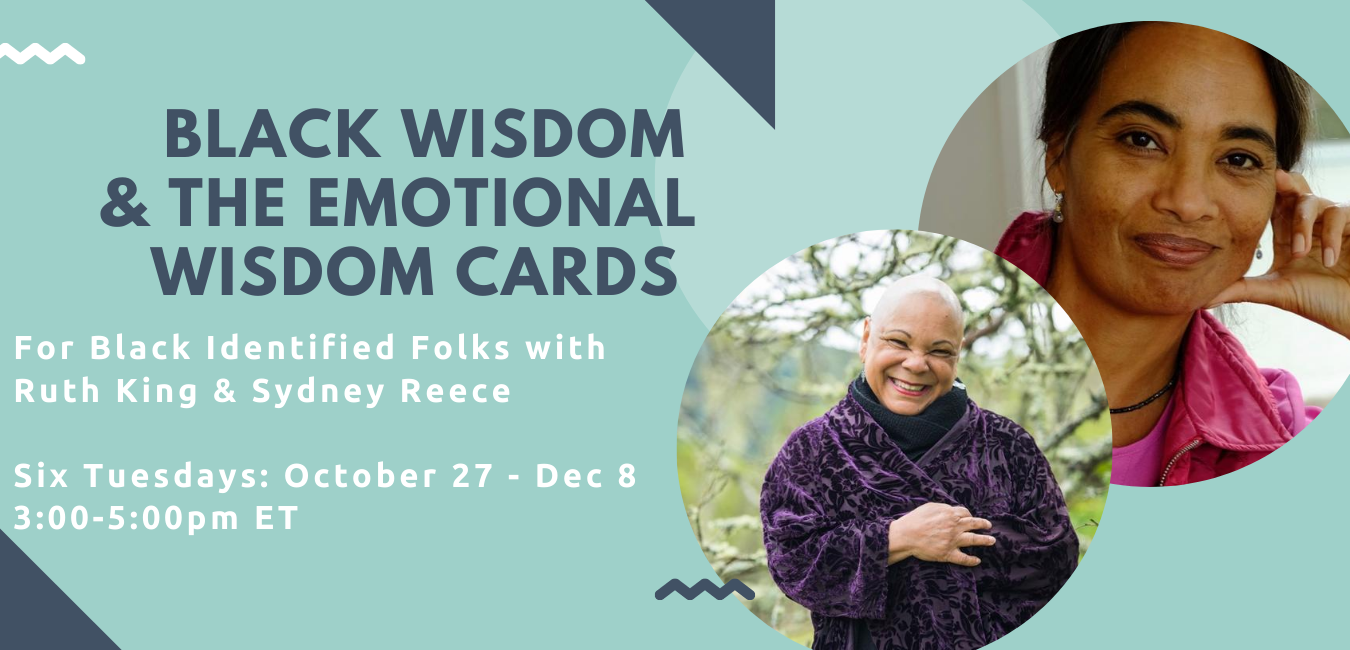 Greetings Black Folks,
I've been thinking about us as Black contemplatives, and as I hold you in the light of compassion and gratitude, I can feel the wisdom of Blackness through our bravery and trepidation, perseverance and doubt, creativity and fatigue, and generosity and isolation.
It has been my experience that we need guidance in remembering and reminding ourselves that we belong to each other, and that what we need most is what we can only give each other. And we deserve a simple and sacred way to know each other, to ripen, and to cherish each other as we continue to do the work that must be done for past, present, and future generations.
For this reason and more, I and Sydney Reece are hosting an on-line series: The Black Wisdom Circle, using the structure of The Emotional Wisdom Cards – a 50-card deck of questions and affirmation, organized in five categories: Memories, Challenges, Disappointments, Happiness, and Legacy.
Our Process: 
Prior to attending each session, participants select a card from their Emotional Wisdom Card deck. The question on the card is to be contemplated prior to attending the Zoom call. Our experience is enriched when we reflect on the question in advance.

We begin by using poetry and other wisdom teachings to entry, settling, and connect.

Participants are then put into random small groups to share their card reflection. This is a sharing and listening Circle, not a problem solving or confrontation circle. You must participate via video on Zoom – no audio only will be allowed.

The small groups end with each person sharing the Affirmation on their Emotional Wisdom card or expressing their own blessing to members in their small group.

We end in our large group, settling in mind and body and in appreciation of the insights received.

This process is repeated for week.
Note: If you do not have the Emotional Wisdom Cards, a question will be offered at the beginning of each session for you to reflect on in your small group.
The Intent: 
To witness and share the weight of our emotional conditioning;

To recognize our tenderness and strength in each other's stories;

To purify our mind through collective vulnerability and compassion;

To celebrate our resilience and affirm our innate wisdom;

To reimagine and refresh our purpose;

To gift each other the privilege of our time and wise attention;

To enjoy each other's company.
The Dates:
Six 90-minute Zoom sessions held on Tuesdays from 3-5pm Eastern:
October 27

November 10

November 17

November 24

December 1

December 8
Sliding Scale: $75.00 or $125.00 or $160.00 for the 6-week series plus purchase of The Emotional Wisdom Cards.
Sign-up: If you are interested in joining, sign up now on Sydney Reece's website and we will send you an official registration and payment forms late September!
Leaders: Ruth King & Sydney Reece
Sydney Reece, M.E.d., international educator in social justice advocacy and mindfulness-based meditation teacher specializing in addiction and trauma resilience, with over 20 years of experience supporting adults, formally incarcerated women, and homeless youth, as well as the health professionals who serve them.
Join Us!