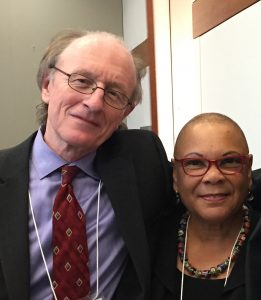 Hugh Byrne and Ruth King, Teachers at Insight Meditation Community of Washington, will offer a daylong meditation retreat: Opening the Heart: A Daylong Loving Kindness Retreat
We are living in a time of extraordinary challenges, and what we need most is a wise and open heart – a heart that supports grounded clarity, harmony, and respect for our differences.
The Buddha's teaching of loving-kindness is described as 'boundless' and 'immeasurable' because there's no limit to the kindness we can feel for others and ourselves, and no border to those whom we can include in our wishes for well-being and freedom. Loving-kindness practice helps us break down the separation and enmity that are so prevalent in our world, and is a healing balm for a troubled world.
If you would like to explore or deepen your practice of loving-kindness, join IMCW teachers Ruth King and Hugh Byrne for Opening the Heart: A Daylong Loving-kindness Retreat, on Saturday, June 9 at the Kay Spiritual Life Center at American University. In this retreat, through periods of loving-kindness and walking meditation, we awaken together and tenderly explore our capacity to create, endure, overcome, and transform suffering.
Visit IMCW.org for registration details