Mourning & Blessing Black Lives – For Black Folks
August 29, 2020 @ 1:00 pm

-

2:30 pm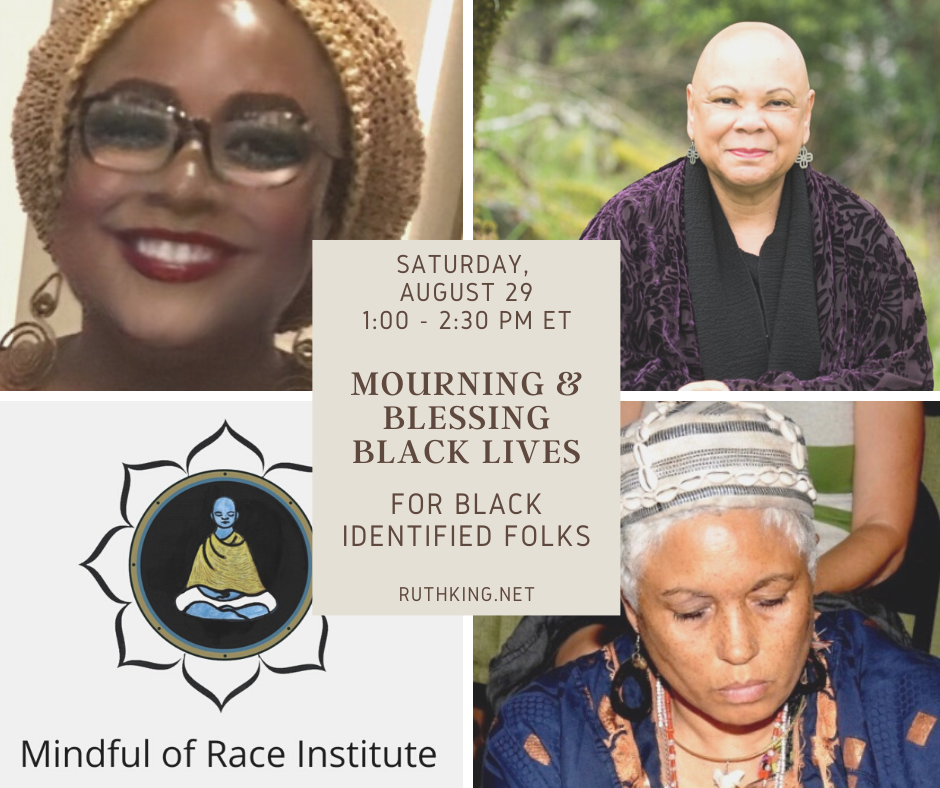 Join us as we hold space to mourn and bless Black lives. Please respect that this is an intentional sacred space for self-identified Black folks. For those wishing to support us, please donate on the link at the bottom of this page. We appreciate your caring support.
Mbali asks: If possible, prior to attending, and to support protection, please make an offering of water to a plant or piece of land prior to the session.
About Mbali:
Mbali is a global medicine woman and wisdom keeper, initiated stick diviner in the Dagara tradition, Vision quest group leader, and Constellations facilitator. Her journey originated in South Africa where she was born. She is descendant of a Khoi Khoi female healer as confirmed by Credo Mutwa and daughter of the AmaGhebe clan from Xhosa tradition in rural Eastern Cape. She is an initiated Igqira Indigenous Healer in the Xhosa tradition. Her ancestors are also French Huguenots, Bushmen, Dutch and Portuguese. http://www.ourdivinemedicine.com/
About Kamilah
Dr. Kamilah Majied is a mental health therapist, social work educator, researcher, and internationally engaged consultant on building inclusivity and equity using meditative practices. She teaches clinical practice to graduate students employing psychodynamic, cognitive-behavioral, mindfulness-based, and artistic approaches to well-being. She also teaches research methods, social and organizational policy analysis, and community organizing through a social justice lens. Kamilah has taught meditative practice from several perspectives including mindfulness-based stress reduction, mindfulness and racial justice, Buddhism and mental health, and mindfulness practices to preserve the environment. She gave opening remarks at the first White House Conference of Buddhist Leaders on Climate Change and Racial Justice, where she also facilitated a dialogue on ending racism amongst the internationally represented Buddhist leadership. After 15 years of teaching at Howard University, Dr. Majied has recently joined the faculty at California State University, Monterey Bay as a Professor of Social Work.
Click here to register in advance for this meeting – or click the Event Website Link below. After registering, you will receive a confirmation email containing information about joining the meeting.
We can accommodate up to 500 participants!
PLEASE ATTEND BY VIDEO ONLY! 
This session is freely offered and we welcome your financial offering! To donate, click on the Donate button below!