The Sounds True Gathering, Scotts Valley, CA
September 26, 2019

-

September 29, 2019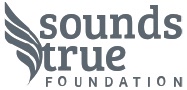 The Sounds True Gathering: A time for renewal, connection, and transformation
This in-person gathering will support the new Sounds True Foundation, a non-profit initiative dedicated to making transformational education widely available to communities in need, as well as to people who are actively working to uplift and protect our society – teachers, veterans, law enforcement professionals, and leaders of social justice and environmental organizations.
During this transformational four-day experience, I along with Adyashanti, angel Kyodo williams, Damien Echols, Jon Kabat-Zinn, JP Sears, Kristin Neff, Mark Nepo, Megan Devine, Richard Miller, Robert Peng, Seane Corn, Snatam Kaur, Stan Tatkin, Zainab Salbi, and founder and CEO of Sounds True, Tami Simon, will have the opportunity to connect in an up close and personal way to share and support you in opening to your own sense of guidance, stretching your heart wider and wider, and receiving inner directives about your next creative steps.
It will be soulful and fun – Plan to join us!