A Stimulus for Social Healing & Leadership
Enjoy this recent article in BuddhaDharma Magazine

Racism remains one of the most rooted and painful impasses of our time. We could say that racism is a heart disease AND it's curable!
Racism is fed through unawareness and the misuse of power. Embedded in racism is the skeletal shape of all oppressions. To understand the dynamics of racism and the flesh we put on its bones is to also understand other forms of oppression and our relationship to differences, divisions, and diversity.
Mindful of Race is designed for leaders, groups, and dedicated practitioners to grow wise about race. Participants become aware of the relational reality of race and their role in racial suffering – its formation and transformation. Unique to this training is the exploration of race and its power dynamics from three levels of experience: individual, group, and institution, and the system of oppression embedded in our mind that is reflected in the world.
This training blends mindfulness principles with an engaged exploration of racial conditioning – or what I refer to as the Racial Awareness Rubik™. With mindfulness practice, we learn how to stay present to what's true and what's difficult with a caring and wise heart. Grounded in mindfulness further supports us in an intimate investigation of our "individual" and "collective" racial conditioning and "systemic" proliferation.
The aim of this training is not to encourage the cosmetics of racial inclusion or an unrealistic ambition to eliminate racial hatred. Rather it offers a process for gradual healing of our divided hearts from a deep understanding of our racial conditioning and its impact. Participants in this training:
Recognize the ways in which our racial history has shaped our perception of others and ourselves;
Become aware of the construction of oppression and social suffering and our role in it;
Discover how our inner life is reflected in the world;
Become more sensitive to individual impact on collective belonging;
Understand how our views impact our use of power and influence;
Wake up to micro and macro-aggressions;
Soften the grip of anger, guilt and fear, and use discomfort to brighten awareness;
Aim our energy toward awakening, non-harming, and unification;
Transcend our racial narrative by becoming more intentional about what we want to transform;
Experience the relief that self-awareness, honesty, and presence makes available;
Experience our kinship and innate propensity for healing and care;
All this while having a bit of fun!
Mindful of Race combines Eastern and Western psychology, mindfulness meditation, group dynamics, diversity awareness training, and leadership development. It is a call to those who are brave and committed long-term to ripening self-awareness through relationships, reducing harm, and fosters collective well-being.
Contact us to organize a training!
Please Note:
This training is designed for intact groups and teams, not as a "public" or "general" retreat.
Your group need not be racially diverse to benefit from this training.
Commitment to a mindfulness or contemplative meditation practice is advised.
Mindful of Race is an introductory training. Racial Affinity Groups will be encouraged as an ongoing support structure post retreat training.
This training is available to groups and organizations upon request.
Contact us to explore how this training serves your group or organization.
Stay Tuned for my New Publication with Sounds True – Spring 2018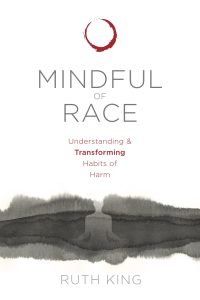 Training Testimonies: 
Guiding a group inquiry into the intricate issues of race requires wisdom, compassion and a highly refined sense of humor.  Ruth King embodies all these qualities.  What she offers those willing to explore these issues is nothing short of magic.
~ Jonathan Foust, Founder,
Meditation Teacher Training Institute
, former president of Kripalu Center for Yoga and Health, and Guiding Teacher at Insight Meditation Community of Washington
I have experienced this training several times and it is always powerful and deeply meaningful each time. It is a very worthy experience. ~
Larry Yang
, co-founder of East Bay Meditation Center and guiding teacher at Spirit Rock Meditation Center  
Volunteers with Insight on the Inside (IOI – IMCW's prison dharma program) spent a morning with Ruth King, who presented her workshop 'Dynamics of Oppression.'  The workshop was clear and informative but more than that Ruth's skill in teasing out our understanding and growth along the path to awakening was inspired. It was a very moving experience.  ~ Carolyn Stachowski
Ruth has this amazing presence — a friendly, curious, no-judgment commitment to fostering authentic dialogue. Her sincere and insightful leadership brings a new dimension to the often difficult and emotional dialogue about racism and privilege. She is a skilled teacher who knows how to both create a safe space for all to be heard and respected, while also challenging our blind spots. In just a few hours in her workshop, I unearthed enough material for many weeks of probing investigation of my own assumptions.
– Jill Drew, Volunteer,
Insight on the Inside Prison Dharma Project
What a beautiful garden-like atmosphere (Ruth's presence) in IOI to plant some of those seeds we've been trying to plant. ~ Carole Clem 
Ruth, This weekend exceeded my hopes and wishes in every way, and I am enormously grateful for what you have helped to facilitate in our IMCC and larger communities. It was not only healing for me personally, but I am excited about all the energy and new leadership in the room — many good seeds were planted, with many people stepping forward to tend the beds. I also enjoyed seeing how this retreat has evolved in the last three years, and I love the new material. Please know how very grateful we are. Deep bow,
Kristina Nell Weaver, Teacher,
Insight Meditation Community of Charlottesville, VA
Dear Ruth, Thank you for sharing your considerable wisdom, humor and truths with our Charlottesville community. I am still basking in the glow (and feeling the overwhelm in my heart). I was incredibly moved by your teachings, both the message and how it was delivered. I saw so much transformation in others and myself over the course of the retreat, a transformation that I am praying will remain long enough for us to dialogue with an eye toward healing. I am hopeful the City will embrace having you come to speak. Thanks so much and may we see you again before too long! With deep gratitude,
Zan Tewksbury, Director, Human Rights Commission, Office of Human Rights, Charlottesville, VA 
Thank you for your kindness, wisdom, clarity, insight, eloquence, humor, poetry, and heart.
Jack, New York Insight