Mindful of Race, Not There Yet!
The idea of wristbands was conceived on a walk with Frances Haeberli in May of 2012. We were attending the Dedicated Practitioner Program sponsored by Spirit Rock Meditation Center and had experienced a very intense session on race the day before which left most of the 100+ attending exhausted and tender. It felt wonderful to be in the open space of Joshua Tree National Park, and creative.
Frances wanted to make a difference. I shared that I had been offering a retreat called Mindful of Race to support awareness of the dynamics of oppression and our role in its creation and transformation. Frances said we need to have Mindful of Race on a wristband to remind people to wake up, and I added — yes, AND it should also say: Not There Yet!  We shared quite a laugh and our emotional load felt a bit lighter and easeful. For a few months, we explored a "wristband movement" which faded in time until now.
By wearing the wristband we are saying: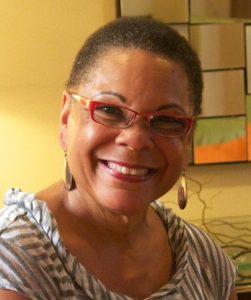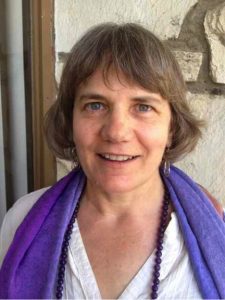 I'm committed to waking up and to transcending racism. 
I'm a safe person to talk to about race. 
I'm open to learn.
I'm dedicated to doing no racial harm and to racial justice. 
I'm committed to bridging separation and healing our communities. 
I want to create new bonds of understanding right here, right now! 
While not a "movement" or joint venture, these understated wristbands are intended to begin a conversation and to remind us to be Mindful of Race. Regardless of our race, we all have much more to learn — Not There Yet!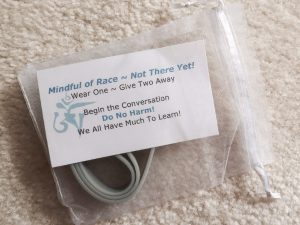 You receive three wristbands per order. Wear all three bands, or wear one and give the other two to friends. Begin the conversation!
May these wristbands spark mindful conversations that keep us aware of our shared humanity.
Ruth King photo by Alonzo Young