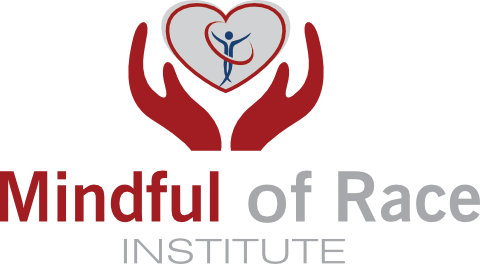 Racism is a heart disease, and it's curable!
Racism remains one of the most rooted and painful impasses of our time. It's fed through unawareness and the misuse of power. Embedded in racism is the skeletal shape of oppression. Understanding how we have been conditioned to think and react is at the root of both racial harm and racial healing. The Mindful of Race Institute, LLC, was established to support racial awareness, racial maturity, and wellbeing for individuals, organizations, and communities. Unique to the Institute is that services integrate three crucial awareness frameworks that together nurture racial understanding, accountability, and connection:
Racial Framework:
Distinctive to this training is Integral Matters: Thriving on Difference, developed by Drs. Barbara E. Riley and Delyte Frost of The Chambers Group, LLC. This framework supports an examination of differences and its dominant and subordinated power dynamics from three lens of experience: individual, group, and systems. Ruth King adapted this framework to focus exclusively on race and racism through the lens of mindfulness-based principles and practices.
Mindfulness Framework:
Mindfulness principles and meditation practices are core to the Institute's services. Mindfulness supports us in experiencing both racial distress and freedom. We become more curious about the nature of our racial disturbances by examining our habits, history and heritage as lived in our bodies and minds, and reflected in the world. With practice, we connect with ourselves in ways that touch the nerve of our belonging, greatly influencing our racial views, responsibilities, and actions.
Racial Affinity Group Development Framework:
The Racial Affinity Group Development framework is a integrative blueprint that supports a shift from a conceptual understanding of race and racism to an embodied understanding of race and racism. This is accomplished by addressing two distinct areas of development: (1) investigation of our racial conditioning and kinship with members of our own race through heart-centered inquiry, and; (2) attention to how we contribute to a culture of belonging as we progress through three predictable stages of group life. By understanding our racial conditioning and attending to group growth, we naturally begin to embody racial awareness, inner stability, and social responsibility.
The Mindful of Race Institute offers experiences that deepen our understanding of how we individually and collectively contribute to racial harm and harmony. Our services also support teams and organizations to exemplify diversity, equity, and inclusion aspirations.
If you would like to support the Mindful of Race Institute's teachings, you are welcome to make a contribution toward our general operations. While your contribution is not tax deductible, your financial support helps make it possible for us to offer our teachings as widely as possible, including supporting those who don't otherwise have the financial means to access our programs. Thank you for your generous contribution!