Racial Affinity Group Development Program
An online immersion cultivating an intentional shift from racial ignorance, innocence, and distress to racial literacy and harmony within community and over time.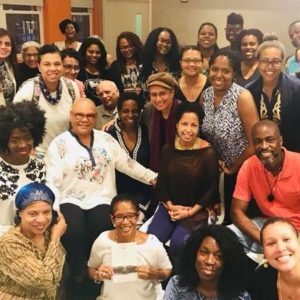 The RA-GDP offers self-formed racial affinity groups a 12-month blueprint to engage two areas crucial for racial healing:
Investigating our racial conditioning and kinship with members of our own race through heart-centered inquiry, and;
Attending to how we create beloved community and heal moral injury while progressing through three predictable stages of group life.
This powerful duo creates an embodied learning laboratory for ripening racial literacy, stability, and affinity. Through monthly narrative practices, we are bringing to light our buried uneasiness, our deceptive discomfort, and our unadmitted despair. We are leaning toward what is unfamiliar and inspecting more closely what is habitual and defended, as well as what is worthy of celebration. We are recognizing the stories we have been told and the stories we tell ourselves. We are seeing more clearly our role in racial harming and healing.
Talking about race is edgy! When sharing racial experiences, we may feel exposed and unskilled as we reveal the anger, shame, and fear that accommodate being open. These feelings can trigger a number of exit impulses: to drop out, strike out, shut down, or remain superficial or guarded in group interactions. Because of this predictable vulnerability, you are supported in navigating three stages of group life. Inclusion, Control, and Belonging. When embraced thoughtfully, each stage develops the support group members need for commitment, truth telling, and connection. 
Learning message from Cohort 1: San Francisco Dharma Collective:
Awareness Outcomes:
The RA-GDP is not a complete response to racial injury and injustice. Rather, we are deconstructing how we have been programed to respond to race and racism, and whether our habits are harming or healing. It offers an intentional, structured, and graceful way to examine our racial conditioning within affinity community and over time.
By understanding our racial conditioning and attending to group growth, we are learning how to embody racial awareness, stability, and social accountability. As these qualities ripen within, we become clearer about how we can lessen the weight of racial ignorance and injustice – internally and externally. We gradually discover that we can stay engaged with the truth of race and racism without shutting down or striking out.
The curiosity, sensitivity, and respect we will refine within our RA Group over this 12-month period is what strengthens our faith in humanity and purifies a dis-eased social heart. We will be able to stand tall in our understanding of our own race and respond to the racial cries of the world with fierce clarity.
RA-GDP Cohort 2
September 1, 2021 -  September 25, 2022