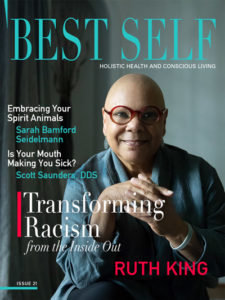 THIS! Our new issue featuring heart activist extraordinaire, Ruth King — is hot off the digital publishing presses — and it is NOT to be missed. It was an honor to sit down with this lady who is literally on a mission to get the blood pumping through the heart of humanity again — to help us to face off with racism in new (and some surprising) ways. It's a topic that makes most of us squirm for a reason — we need help. Some of us have the privilege of NOT thinking about it, while others don't. Are you ready to show up differently, to be a part of the healing, to shift the paradigm, to uncover lineage and inherited beliefs? Of course you are, you're a best selfer! ~ Kristen Noel, co-founder, Best Self Magazine
Also, Receive a free 1-year subscription!
Enjoy this trailer and listen to the full interview here!