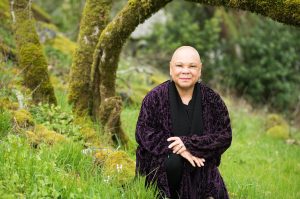 Ruth King is an emotional wisdom author, coach, and consultant. She is a guiding teacher at Insight Meditation Community of Washington, is on the teacher's council at Spirit Rock Meditation Center, and is the founder of Mindful Members Insight Meditation Community in Charlotte, NC.
In former years, King managed training and organizational development divisions at Levi Strauss and Intel corporations where she designed diversity awareness leadership programs and consulted to leaders on cultural change initiatives, including the behavioral implications of mergers and acquisitions.
Currently recognized as a trainer of trainers and consultant to consultants, King offers talks on The Racial Awareness Rubik and teaches the Mindful of Race Training Program, which blends mindfulness meditation principles with an exploration of our racial conditioning, its impact, and our potential.
King has a Masters Degree in Clinical Psychology from John F. Kennedy University, Orinda, CA, and is the author of several publications including: Healing Rage: Women Making Inner Peace Possible and Mindful of Race: Transforming Racism From The Inside Out.
King, African American, Elder, and native Californian, living over 25 years in the Bay Area, currently resides in Charlotte, NC, with life partner, Dr. Barbara Riley, and cat, Mr. Socks.
It was a great honor and JOY to host you and Cindy here at Davidson. Your presence, in the words of one faculty attendee, brought the energy of a bodhisattva. Thank you for sharing your wisdom and skillful practices with us. The tea time and lecture planted many seeds of goodness that I trust will continue to ripen on campus. I hope that Davidson can continue to be in partnership with your work. Peace, and every good blessing. – Elizabeth Welliver, Chaplain's Office Fellow | Davidson College '16
Thanks for providing Building the Village for me to participate with other women of color in creating a world filled with positive and nurturing people. This was exactly what we needed after the loss of a key political player to suicide. Thanks for being there for us. – Sandra Murray, Ph.D., School of Medicine, University of Pittsburgh, PA
With Ruth's professional warmth and illuminating guidance, we explored deeply and peeled many layers of the onion. Her gift to our group was a new series of memories that reinforced the beauty and promise of genuine, authentic leadership. – Maeve Richard, Formally, Director of Finance, Levi Strauss & Company, and Assistant Treasurer, Sun Microsystems, Inc. San Francisco, CA
"After the twin towers collapsed you offered a one day healing workshop to process our feelings during that time. I came to that workshop. It was beyond helpful. A lot got worked through after that. As a child of parents who fled countries where persecution ruled their life, it was a great offering on your part. Thank you."
Insight Meditation Communities
Cooper Beech Institute, West Hartford, CT
Against the Stream Buddhist Meditation Society, LA, CA
Insight LA, CA
Spirit Rock Meditation Center, Woodacre, CA
East Bay Meditation Center, Oakland, CA
Buddhafest, Washington, DC
New York Insight, NY
Insight Meditation Community of Washington, DC
Meditation Teacher Training Institute, DC
Insight Meditation Community of Charlotte, NC
Insight Meditation Community of Charlottesville, VA
Insight Meditation Center, Santa Cruz, CA
GAIA House, Devon, UK
Insight London, UK
Insight Retreat Center, Santa Cruz
Corporate Clients
Red Ventures
Genentech Corp, A Member of the Roche Group
Intel Corporation
Moore & Van Allen PLLC
Kaiser Permanente
The GAP
Best Buy
Levi Strauss
Johnson & Johnson
Sun Microsystems
The Automobile Association of America
Not for Profit clients
Davidson College
The Overlake School
City Schoolyard Gardens
Alameda County Sheriff's Office
Duke University
Corporation for Supportive Housing
Habitat for Humanities
International Coach Federation
League of Black Women
Hispanics in Philanthropy
Levi Strauss Foundation
Municipal clients
East Bay Municipal Utility District
Port of Oakland
AC Transit