There can be no sustaining shift toward racial justice without the rigor required to understand and heal our racial group habits of harm.
It's not enough to think we can simply get a racially diverse group of smart people in a room and "hash out" the issues. Many of us have been there and done that to no avail. We show up with good intentions but leave puzzled, bruised, and frustrated. Unfortunately, this is painfully common.
Given the unintended harm caused from unawareness and emotional activation when we gather across races, we need a way to dive deep into understanding the ignorance and innocence of our racial habits, character, and impact on social harmony. For these reasons and more, I created Brave Space: a 12-month intentional space for self-formed racial affinity groups to understand your racial conditioning, its impact, and our collective potential.
Brave Space Will Help You:
This work helps you stand tall in your understanding of your own race and recognize and respond to social distress with more understanding and fierce clarity.
Discover How Your Racial Conditioning Impacts Social Harmony

The group development focus in Brave Space supports an embodied learning experience. Through structured and supportive monthly guidance and attention to group growth within your racial affinity group, you discover how you show up and impact groups in your broader fields of influence.
Within a span of 12 months, you have time to relax, open, and discover - from the inside out - that you can stay engaged with the truth of race and racism with more inner stability, confidence, and grace.
In Brave space, belonging becomes more intimate, and this ripening has a profound impact on your capacity to influence social harmony and well-being.
Racial Group Affinity Is the Gateway to Deeper Presence, Clarity, and Connection to Humanity
When you engage this tender territory with members of your own race, you are using your relationships to each other to better understand yourself as a racialized being and your collective impact.
To separate into same-race groups, in this sense, is not intended to divide us but rather to leverage the fact that within most contexts and often within our hearts, we are already racially divided. In Brave Space, we use separation to more deeply understand this chronic conditioning that feeds separation and harm.
Click here to read more about the unique importance for BIPOC and white affinity groups.
"Now is the time... just do it!"

Access the online portal. You will receive new guidance, assignments, and personal reflections each month. The online portal contains all of the material in one, easy-to-access place.
Complete the individual assignments. Take time to engage in deep personal reflection and explore your racial conditioning through the provided assignments. (Estimated at 3 hours per month.)
Meet with your racial affinity group. We provide thoughtful guidelines for meetings including guided meditations, a template to structure your time together, and questions for contemplation and group development discussion.
Through the genius of the Brave Space design, you have the time needed to unpack and experience your racial conditioning, out loud and within community. No one is made to feel right or wrong, rushed or judged. Instead, space is structured into the design, ensuring that you are seen, respected, mirrored, and affirmed.
The experience that grows over time allows all members to both learn and embody what they are learning. This is a crucial foundation for racial awareness, connection, and healing.
A Potent Drop of Awareness
Brave Space is not a complete response to racial injury and injustice. Rather, we are deconstructing how we have been programmed to think and respond to race and racism, and recognizing whether our habits are harming or healing. It offers an intentional, structured, and graceful way over time to examine our racial conditioning within affinity community.
The curiosity, sensitivity, and respect you will refine within your racial affinity group over this 12-month period is what strengthens your faith in humanity and purifies a dis-eased social heart. You will be able to stand tall in your understanding of your own race and be able to recognize and respond to social distress with fierce clarity.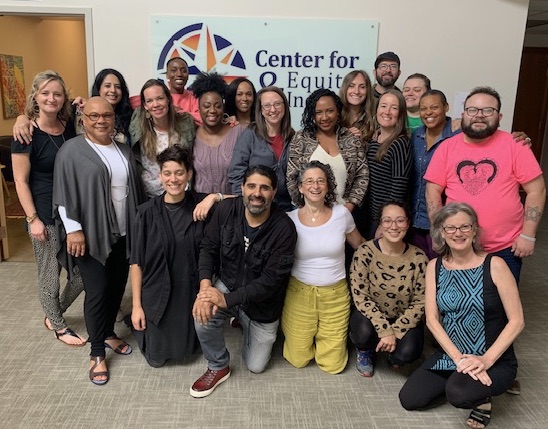 Brave Space by Beth Strano
There's no such thing as a safe space.
We exist in the real world and we all carry scars and have caused wounds.
This space seeks to turn down the volume of the world outside and amplify the voices that have to fight to be heard elsewhere.
This space will not be perfect. It will not always be what we wish it to be.
But it will be ours together and we will work on it side by side.