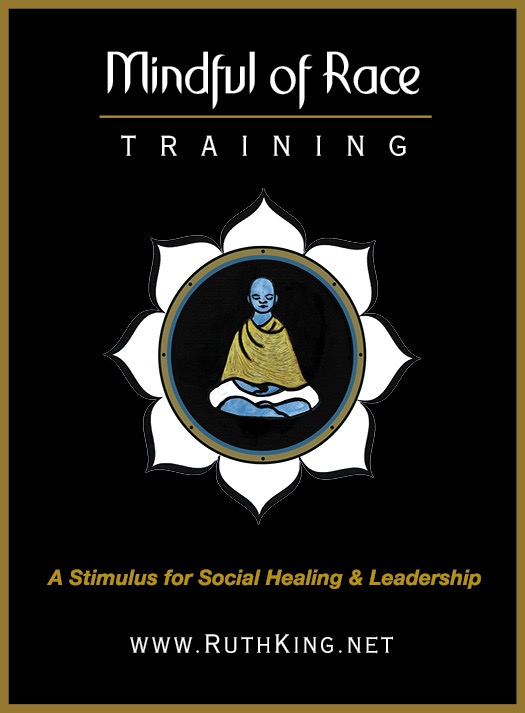 A call to groups and organizations committed long-term to developing racial self-awareness, mindfulness, and leadership
Your presence was personally meaningful to me and turned out to be "mission-critical" for the educational flow of the 4-day experience. I would go so far as to say your presentation was a "turning point" in which participants were invited into a much deeper conversation with themselves with questions and explorations that are challenging and that matter. Your contribution to The Gathering was pivotal. I appreciated your pacing. You unpacked the framework with slowness, grace, and care. There was something for me about "how" you explained the framework that was a teaching in and of itself about the value of embodying presence and communicating clearly and carefully. Thank you for coming to the Sounds True Foundation Gathering and bringing your wise and loving presence. - Tami Simon, Founder, Sounds True Publishing, September 2019
The Call
Racism remains one of the most rooted and painful impasses of our time. It's fed through unawareness and the misuse of power. Embedded in racism is the skeletal shape of oppression. To discern the dynamics of racism and the flesh we put on its bones is to also discern other forms of oppression and our relationship to differences, divisions, and diversity. Understanding how we have been conditioned to think and react is at the root of both racial harm and racial wellbeing. Groups and organizations committed long-term to cultivating racial self-awareness and mindful leadership will be inspired to respond to this call.
The aim of the Mindful of Race Training Program is not to encourage the cosmetics of racial inclusion, the tokenism that often go with "flavors of the month" training, or to address a crisis. Rather it offers a gradual process for understanding our racial programing, its impact, and our potential. Together we create a vital and supportive learning community where we become more aware of our racial conditioning, discover how to deconstruct habits of harm, embody racial wellness and responsibility, and contribute to a culture of care.
The Program
The Mindful of Race Training Program is designed as a cultural change initiative for groups and organizations. The power of the Mindful of Race Training Program is that it builds over time, supporting the development and integration of three crucial competencies: racial awareness, mindfulness meditation, and leadership. This program unfolds over 12-months and consists of:
A 4 1/2-day training intensive for up to 20 participants
9 peer-led Racial Affinity Group monthly meetings
3 two-hour zoom sessions with combined Racial Affinity Groups, facilitated by Ruth King or her associates, to leverage learning and integrate insights across groups
This 12-month program is grounded in Ruth King's publication, Mindful of Race: Transforming Racism from the Inside Out, her professional background in leadership and organizational development and diversity program design, as well as her extensive experience as a mindfulness meditation teacher.
Racial Framework
Unique to this training is the infusion of the Integral Matters Framework: Thriving on Difference, developed by Drs. Barbara E. Riley and Delyte Frost of The Chambers Group, LLC. This model supports an examination of differences and its power dynamics from three levels of experience: individual, group, and institution, and the dominant and subordinated dynamics of oppression embedded in our mind that is reflected in our actions. This framework was modified to focus exclusively on race through the lens of mindfulness and incorporates Ruth King's extensive background in the design of diversity training programs for leadership teams and organizations throughout the world.
Mindfulness Framework
Mindfulness principles and meditation are also core to this training. Ruth King and her associates have extensive experience in the Mindfulness (Insight) Meditation tradition. With mindfulness practices, we learn to stay present to what's here and now, and to what's difficult, with caring and wise awareness as we investigate our "individual" and "collective" racial conditioning and its "systemic" proliferation. It helps us put a critical pause between our impulsive and often overwhelming feelings of being wronged, harmed, or threatened. In this pause, we gain perspective; we find our breath, our heartbeat, and the ground beneath our feet. This pause supports us in examining our thoughts and feelings, seeing our choices more clearly, and responding wisely. Mindfulness further supports a shift from us simply receiving information in the training to integrating awareness into our lives.
Racial Affinity Group Development Framework
Core to the Mindful of Race Training Program is the formation of Racial Affinity Groups (RA Groups), a mindfulness structure that deepens understanding and integration of knowledge gained in the training.
RA Groups are formed during the 4.5-day training. Participants commit to attending 9 peer-led sessions over a 12-month period responding to specific questions that deepen understanding of racial conditioning and group development.
The RA Group is a mindfulness practice. The quality of sharing and depth of connection experienced by each participant largely depends on how successfully each RA Group navigates three predictable stages of group life: Inclusion, Control, and Belonging. For this reason, a RA Group framework is provided in the 4.5-day training for examining both our racial conditioning and group life experiences.
Commitment to this structure is crucial for group cohesion, focus, and growth. Learning is both heightened and accelerated in RA Groups as we use each other to wake up, come out of hiding, and discover our impact on others and ourselves.
In this 12-month cycle following the training, every 4th month, all RA Groups reconvene to share insights, be supported, and leverage learning.
RA Groups allow for a rare opportunity to live an experience dedicated to racial awareness and genuine connection with members of our own race, while also ripening our capacity to engage across race.
Program Outcomes
Participants in this program develop the following awareness skills:
Recognize the ways in which our racial history shapes our perception of others and ourselves
Become aware of the construction of oppression and our role in it
Discover how our unconscious racial views are expressed in our lives
Become more sensitive to individual and racial group impact
Discern how mindfulness supports racial awareness and group wellbeing
Elevate our understanding of power and influence
Wake up to micro and macro-aggressions
Soften the grip of anger, guilt and fear, and use discomfort to clarify intention
Identify our most sensitive "activation points" and tend to them with wise care
In this training, we aim our energy toward awareness, non-harming, and harmony. We experience the relief that self-awareness, honesty, vulnerability, and presence make available to us and to others, and we experience our kinship and innate propensity for kindness and compassion. All this while having a bit of fun!
Target Audience
The Mindful of Race Training Program is designed for groups, teams, and organizations invested in exploring the intersections of racial self-awareness, mindfulness, and leadership, and interested in the inner work that supports individual deconstruction of racial conditioning. Your group need not be racially diverse to benefit from this training. This 12-month commitment consists of:
A 4 1/2-day training intensive for up to 20 participants
9 peer-led Racial Affinity Group monthly meetings
3 two-hour zoom sessions with combined Racial Affinity Groups, facilitated by Ruth King or her associates, to leverage learning and integrate insights across groups
Organizational consulting services are also available.
Next Steps
Dear Ruth, To come in to the (South Africa's Mindfulness Institute) conference as you did, at the end of a long and full day, sitting in front of a screen on the other side of the world, and to engage everyone so deeply, is extraordinary. Everyone's attention was rapt. Your seamless weaving together of your talk with Baba Mandaza's was exquisite. The content, the depth of insight, the clarity, the warmth that you embodied landed deeply, wholeheartedly in the room. It will not be possible to assess the impact of such a transmission, other than to let you know that I speak on behalf of the collective in expressing our deep gratitude for what you shared, and how you shared it. With immense respect, and love. ~ Dr Simon Whitesman, MBChB, Chairperson for the Institute for Mindfulness, South Africa 
Mindful of Race Training:
Kripalu Board & Senior Leaders
Center for Equity & Inclusion, OR
Vallecitos Mountain Retreat Center, NM
Triangle Insight Meditation Community, NC
Durango Dharma Meditation Center, CO
Common Ground Insight Meditation Community, Minneapolis, MN
Insight Meditation Community of Charlottesville, VA
Meditation Teacher Training Institute, Washington, DC
Against The Stream, LA
Spirit Rock Meditation Center's Community Dharma Leadership Program (CDL3) Reunion, Barre, MA
Spirit Rock Meditation Center's Dedicated Practitioner Program (DPP), CA
Radiance Retreat Center, MS
Mindful of Race Keynotes:
YWCA Central Carolinas
The Gathering, Sounds True
University of North Carolina, Charlotte
Corporate Eco Forum, Annual Leadership Retreat, Utah
University of North Carolina, Wilmington
Dan Harris Podcast, ABC News
Clergy Collective, Charlottesville, VA
Mindfulness Institute of South Africa
Spirit Rock Teacher Training Program
Goucher College, MD
Buddhist Peace Fellowship Academy
Chrysalis Institute, VA
University of Virginia, VA
Festival of the Book, Charlottesville, VA
Mindfulness Meditation Teacher Certification Program, Sounds True
San Francisco Public Defenders
Ocean County Library, Toms River, NJ
Sounds True Self Acceptance Summit and Mindfulness Meditation Summit
Tricycle Magazine
Best Self Magazine
New York Zen Center for Contemplative Care
Worldwide Insight
Valley Insight, Hanover
Cambridge Insight, Boston
IMC of Pioneer Valley, Easthanover
Spirit Rock Meditation Center
Awakening Joy with James Baraz
Sharon Salzberg Podcast
Mind Life Institute
International Coach Federation
Mindful Leadership Summit, DC
Insight Meditation Community of Washington, DC
Contact up to explore training for your team!
Appreciations
Guiding a group inquiry into the intricate issues of race requires wisdom, compassion and a highly refined sense of humor.  Ruth King embodies all these qualities.  What she offers those willing to explore these issues is nothing short of magic. ~ Jonathan Foust, Founder, Meditation Teacher Training Institute, former president of Kripalu, and Guiding Teacher at Insight Meditation Community of Washington
Wise, compassionate, and to the point about how to work with racism on personal, group, and institutional level. 
The training was clear and informative but more than that, Ruth's skill in teasing out our understanding and growth along the path to awakening was inspired. It was a very moving experience.  ~ Carolyn Stachowski, Insight On The Inside Prison Project, DC
Very insightful on major (if not the major) contemporary problem of racism. Well-structured and articulate. A great deal to reflect on, yet presented in such a way as to not be overwhelming. 
Thank you for sharing your considerable wisdom, humor and truths with our Charlottesville community. I was incredibly moved by your teachings, both the message and how it was delivered. I saw so much transformation in others and myself over the course of the retreat, a transformation that I am praying will remain long enough for us to dialogue with an eye toward healing. ~ Zan Tewksbury, Director, Human Rights Commission, Office of Human Rights, Charlottesville, VA 
I want to thank you for your Mindful of Race retreat at Vallecitos Mountain Retreat Center. The whole experience is still alive and resonating for me. I found it to be deeply moving. Also, I appreciate the skill and care you embodied in the way you held the container. I am inspired by your example. ~ Brian Lesage, on the Teacher's Council at Spirit Rock Meditation Center 
On behalf of the Common Ground Community, I want to thank you for your wise, fearless, and kind teaching and presence. You are a Dharma Treasure and we hope that it will make sense for you to continue to support us down the road. With great gratitude. ~ Mark Nunberg, Co-Founder and Guiding Teacher
I want to express my deep admiration and profound gratitude for all you brought to our training and to this work. It is so apparent that the wise, compassionate and beautiful qualities and skills that you manifest in each moment are the fruits of your practice and path  as well as the result of all the supportive and transformative relationships you have cultivated along the way. Kindness wishes and deep love. ~ Scott Bryce, Triangle Insight, NC