Why Heal Rage?
Rage manifests in many different ways, and when you are unaware of your own rage and its impact, this powerful emotion can cause tremendous harm to yourself and to others. But rage has much wisdom to offer, and can be a catalyst and tool for personal and spiritual development. When we stop fighting rage and begin to pay kind attention to it through meditation, rage has the power to educate, heal, and transform.
In this 6-session course, we will learn to befriend rage—and its six disguises—through mindful reflection and meditation practices that soothe our inner flames, helping us to suffer less and live more fully connected to ourselves and others.
Beloved author and meditation teacher Ruth King helps you turn inward and rest in the wisdom of the body; quiet the inner storm of emotional turbulence; be present to the shadows and wisdom of rage; offer forgiveness to yourself and others; and center yourself in equanimity.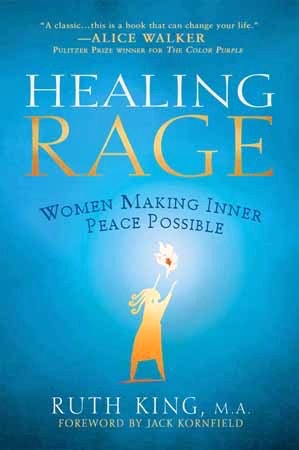 Required Reading for this Course!
"This is revolutionary work." Jack Kornfield
"This is a book that can change your life." Alice Walker
"Ruth King has done the unthinkable." Lynne Twist
"Here is a book of enormous scope." Harriet Lerner
Healing Rage: an O Magazine Nugget - 2007
Ruth helped me to move beyond being a victim of my own rage. When I first came to her work, acting out my rage had become the main way I dealt with threatening situations. Slowly, I developed skills to respond to troubles and confrontations with more skill. I began to see how I might act differently, how I might see my own feelings with more compassion, how I might even direct the incredible emotional responses I had in new and creative directions.
– Mary LaMattery, City College of San Francisco