Aba Cecile McHardy, aka the Friendly Dragon, and my beloved Dzogchen teacher since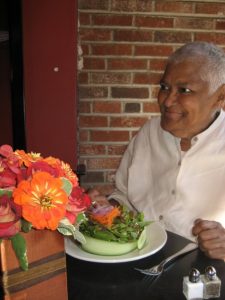 2002, is currently in hospice care at Brairwood Healthcare Center in Needham, MA. Aba has been ill for some time and would say to me often: "Care, not Cure." According to her care provider and dear friend, Aba likely had a stroke in November and recently has declined fluids and food.
Aba has always been a rare treasure in my heart and mind. I met her at Spirit Rock's African American Buddhist Retreat in 2002 where she was one of many gifted teachers. At this retreat, she told me she had known me many lifetimes before meeting me. Aba was also a significant adviser to my book Healing Rage (2004).
Aba's Dharma Names are Takseng Shepa [Tiger Lion Laughter] and Rinchen Gyalmo [Earth Queen]. Many of us know her fondly as Aba, The Friendly Dragon. Aba lived and worked in Africa for 15 years, and was an anthropologist, independent scholar, and Harvard Fellow at the Radcliffe Institute in 1968-1970. She served on the core faculty of Goddard College for 10 years before embarking on a yogic path.
Aba lived in Buddhist communities from Dhagpo Kagyu Ling Dordogne, France, to Gampo Abbey in Nova Scotia. As a member of the Shambhala Buddhist community for the past 30 years, she had the blessings and good fortune to have served many teachers: Nyingma/Kagyu, HH Dilgo Khyentse Rimpoche, HH the 16th Karmapa, and his Regents [Jamgong Kongtrul, Tai Situ, the Venerable Kalu Rimpoche, among others]. Chogyam Trungpa Rimpoche is her root guru and Thrangu Rimpoche, Dzogchen Ponlop Rimpoche and Khenchen Tsultrim Gyamtso gave transmissions for the traditional solitary 3-year retreat training of a lama, which she completed in 1996. Since then Aba has lived as an urban yogi in great simplicity in Cambridge, MA.
When interviewed by Turning Wheel, Aba was asked: What kinds of experiences do you bring to practice? Her response:
A playful world of difference… I enjoy teaching stories from a treasury of wisdom traditions manifesting in all cultures, exposing vulnerability, ambiguity and complexity. Pointing out instructions of a simple direct path of skillful means—meditation in action, the mantra of sound, the tantric mudra, the vajra dance, pacifying, magnetizing, enriching, and destroying displays of reparations. I celebrate healers, cosmic garbage cleaners, and peacemakers.
Aba had one daughter, Alero, who passed away in 2005. Aba then came to the Bay Area for a long visit to rest. She stayed with me in Berkeley for several weeks while the communities of color cared for her and we were well cared for by her tender transmissions during this time.
Aba is transitioning with a clear heart and mind, surrounded by loved ones near and far. She wants everyone who knows her to know: "It's all right. No hope, no fear." I am grateful for how she reached out and called me to truth, and taught by example. I lovingly recall how much she enjoyed the earth, animals, tall trees, intimate time over tea and dinner, surprises, storytelling, thoughtful calls, and what she often referred to as Buddha bums and Dharma bastards – aka rascals.
Please join me in bows of love and gratitude to my beloved teacher, Aba, for her playfulness and mischievousness, inscrutability and generous light. May she have a graceful and easeful transition.
Sincerely, Ruth