The Emotional Wisdom Cards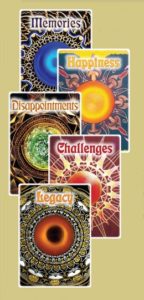 Experiences shape our lives – stories that touch us deeply and influence how we show up in stressful times. These stories are often hidden, forbidden, or forgotten until we slow down enough to feel the truth of our lives. While we don't want our thoughts to work against us, the stories that shape our lives hold insight, and are worthy of being remembered, ventilated, and shared. However, without caring guidance, we don't always know how to enter this tender territory with those closest to us, but the longing lives loud and is often unspoken. For these reasons and more, I developed The Emotional Wisdom Cards – a 50-card deck that supports honesty and harmony by guiding us to share where we are coming from and what's important.
The cards are organized in 5 categories: Memories, Disappointments, Happiness, Challenges, and Legacy. Each card asks a question and offers an affirmation. You can enjoy the cards as a solo practice of reflection and journaling, or with family and friends in person or in virtual space. Imagine sitting around and shuffling the deck (or a category or two). Each person pulls a card and responds without interruption or judgment – receiving only the presence of genuine curiosity and welcome.
This deck is suitable for individuals, families, support teams, affinity groups, organizations, new relationships, and other creative gatherings. Guidebook included!
50 cards plus guidebook
Artist: Aishah Bashir
Publisher: Sacred Spaces Press, 2007, 2019
Customer Reviews:
I have experienced deeper connection and affinity while having fun delving into mine and other's true selves. The affirmations on each card also enhance the dialogue and support positive thinking.
***
There are plenty of self-help books and books about relationships but with questions around legacy and other topics, these cards truly facilitate self knowledge and the journey within. The cards can be used alone but if used as a partner/family activity, the cards cultivate understanding and deeper connection. Each card includes an affirmation and beautiful artwork.
***
A lot of wisdom went into the formulation of the rich questions on these cards. The cards are not to be used lightly – the questions can be intense, and honest answers sometimes lead to memories of painful experiences, or to difficult insights. But as a way to prompt insightful personal conversations, I strongly recommend them.
Enjoy these samples: