The Emotional Wisdom Cards 
The Emotional Wisdom Cards offers an enjoyable way to grow wise and have a more satisfying life. This 50-card deck is ideal for individuals, families, couples, communities, work teams, support groups, and other relationships seeking understanding, connection, and ease.  The power of the Emotional Wisdom Cards lies in its inquiry. The questions are both thought provoking and inspiring, designed to make available in one application what might otherwise take years to understand. The 50 cards are divided into five categories: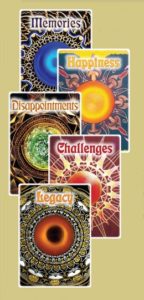 Memories, Happiness, Disappointments, Challenges, and Legacy. Each of the five categories has 10 cards. Each card asks a question that opens the heart, and offers an affirmation that comforts the soul. Each of the five categories is distinguished by a mandala exquisitely designed by Aishah Bashir, a talented artist in Oakland, CA.
50 cards plus guidebook
Artist: Aishah Bashir
Publisher: Sacred Spaces Press, 2007, 2019
Enjoy these samples: