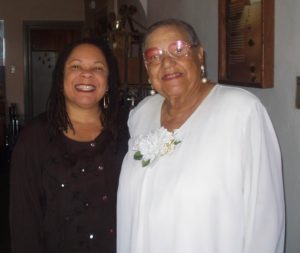 My mother, Lodie Mae Cherry, passed away four years ago to this day – May 3, 2014. She was a month short of 90. I was teaching a Mindful of Race training in Charlottesville, VA, when I received the call, and it took all I had to complete the last day of training before catching a plane home.
Last night, I spent some time reflecting on my mom's life. My grandfather owned a plumbing company in Los Angeles. He trained my father in the business and my mother ran the office. My father then trained his sons in the business.
Born in 1924, my mother was a musician at heart and a civil rights activist out of necessity. And with 8 children, she had to work many jobs to care for us. In reviewing the pile near me that now speaks of her life, I was reminded of her work with the Urban League back in the 60's, where, because she was a light-skinned black person, she was able to gain access to jobs darker-skinned blacks did not have access to, due to structural racism. However, because of her skin-color privilege, she was able to gain access and then advocate for other blacks to be hired. From what I can glean, it was an intentional strategy and a good use of her privilege.
My mom taught me that it is not enough to just care for yourself and your family; you must also use whatever privileges or blessings you have to lift others up. It is her voice that whispers in my ear, her music that plays in my heart, and her proud example that keeps me in service to us all. Thank you Mom. I love you. I'm grateful. Your life sustains me.